Artist Profiles
Hajeer Jomehri
United States
BA - Cogswell Polytechnical College, Computer Video Imaging with a concentration in Character Animation.
AA - De Anza College, Animation.
Artistic Inspiration
I find my inspiration in the characters and stories that have shaped our natural world. I find richness in the people that surround me in my daily life as well as the mythological characters and creatures whose stories help to define humanity. I am in awe of the wild kingdom, the daily drama and struggle for survival that occurs there. I look to history, mythology, fable, and fiction to understand better how people of different backgrounds and societies have come to be who they are. And I can't help but breathe new life into these characters. Using ancient techniques and contemporary technology, I can bring them back to life and bring their stories into a very new world, at once preserving them and allowing them to evolve.
Artistic Evolution
I began with a foundation in drawing, the simplest and one of the oldest forms of artistic expression. I naturally focused on characters as my subjects, drawing people and animals in extreme detail – always trying to make them real enough to jump off the page. I began to experiment with these characters, mixing people and animals and creating my own fantastical creatures. The more life I was able to draw into them, the more real these creatures of my imagination could become. The life of my characters was limited by the 2-Dimensional world of pencil and paper, and so I began to experiment in the world of 3D. I started with sculpture but quickly discovered 3D modeling and animation. The life I was able to breathe into my characters using cutting-edge 3D technology and techniques was unparalleled. As the technology continues to evolve, I learn and evolve with it. As this digital age barrels forward, I will constantly be looking for new ways to tell these stories.
Artistic Meaning
I use contemporary technology to bring the ancient and fantastical to life in new ways. I hope to translate these characters into a new language for a new generation, helping to preserve their stories as culture moves forward. At the heart of everything I do is a story. I want people to connect with the stories of these characters. Through their stories, I want to create an emotional connection between my work and the audience.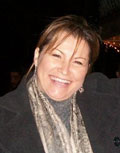 Dineen Roeller
United States
Artistic Inspiration
Carl Jung once said, "Your vision will become clear when you look into your heart. Who looks outside, dreams. Who looks inside, awakens."
My thoughts are abundant with drama that fills my mind. I'm constantly looking for inspiration that frees my mind without interruption. Finding my center, my focus, as I'm standing in front of a piece I'm working on, to me, is the greatest gift of all. As an artist, I can move confidently through my creations and enjoy the peace it gives me. I'm extremely visual, my mind is open to so many influential possibilities. It could be a piece of furniture to a painting I've seen, it could be something I've seen on television or an architectural building of great beauty and character. Being able to do what you love is inspiration within it's self, and I hold great value in that.
Artistic Evolution
My adolescents was filled with selling drawings to classmates and in high school, I sold class projects to my art instructors. I was unrefined as far as direction went, but my delicate style had always been present. Upon graduation, I had gained an internship with an advertising firm, so my focus was on the concept of design and line art.
I discovered my full artistic potential and love for painting, as a tool to heal from a low point in my life. Over the years, I have evolved through life changes. I feel that my sense of style and creativeness has matured naturally, as I've grown.
Artistic Meaning
In the past as an artist, I was unable to focus properly on any one particular style of expression conveyed. But my art is now extremely personal. It embodies the pain and joy of who I am. I hope to bring meaning and encouragement to others through my works. It would be amazing to me if my art moves you to adorn your home with my tiles.

Kristy Stokes
California, United States
BS – University of California Santa Cruz, Cellular Biology.
AS – University of California Santa Cruz, Wildlife Biology.
Master Certificate – University of California Santa Cruz, Science Illustration.
Artistic Inspiration
My creativity is inspired from the amazing beauty and creativity of the natural world. If I think it's awesome I want to paint it. I want to paint it to explore all the details. Painting something requires you to look at something a lot, in every detail, and then every detail in different ways, so you really come to know what you like about the subject. I want to paint it to showcase the features that strike me, so I can share my awe and appreciation with others.
Artistic Evolution
More of my imagination is making its way into my work. As an artist I reproduce things I see. I have begun observing a variety of sources on a topic and melding them to create imaginary yet realistic species; make-believe species that could exist, if we explore and discover them. 
Artistic Meaning
Appreciation for the wonderful complexity and delicacy of life and nature.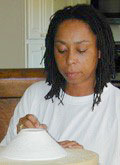 Vicki Wilkerson
California, United States
BA - William Wood University, Business Administration and Law.
Artist Inspiration
My love of clay began as a young girl in Missouri under an old maple tree in my backyard where my sisters and I would make mud pies. Later in life I learn that my grand mother was a potter and sculptor. In the back of my mind, I think it must have been her voice that I heard in my morning dreams that inspired me to become sculpture.
My porcelain carving technique was born out of frustration with my glazing abilities. One day I tried drawing onto the surface of a damaged pot and I liked what I saw. Carving quickly became my passion and I began to incorporate it into all of my ceramic work. The subject of my carvings is typically rendered from the nature I observe in and around my garden studio. My work is typically wheel-thrown, however, I equally enjoy carving my hand-built boxes and eggs.
Artistic Meaning
While the subject of most of my art is based in nature, some are completely whimsical depending upon the shape of the vessel.  I enjoy stretching my imagination to fit the contour of a freshly thrown piece.